Download your shiny NEW caps lock!

Menu item app for MacBook, MacBook Air and MacBook Pro
The Caps Lock key indicator lamps on the MacBook computer series is very small usually hidden by your left hand when typing SuperCapsLock LIGHTS UP YOUR WHOLE KEYBOARD whenever Caps Lock is active, making the visual feedback A LOT CLEARER. SuperCapsLock makes you WRITE FASTER while STAYING MORE FOCUSED. You don't need to lift your left hand or type any characters to double check if Caps Lock is active or not.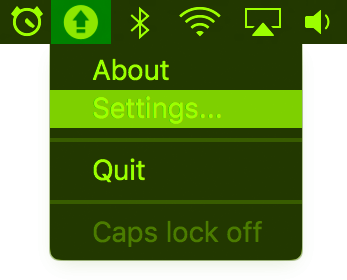 The menu icon also lights up.
SuperCapsLock is the programmers friend. Write your upper case macros and constant variables in style!
(All text on this page was written with the help of SuperCapsLock.)
© 2016 Superpanic